Multilevel Marketing

&
Direct Selling Business
MLM is a distribution-based marketing strategy that contains two or more tiers of commission overriding.
Learn More
MLM is already a widely accepted form of business, with its own way of moving products or services to generate business sales volume. If a MLM company is not using technology in its business operation, it is an outdated company and soon will be left behind by its competitors. Success can be achieved using the adequate technology through unique, competitive products combined with a powerful brand.
A Success MLM Company Start From
A Stable System
Timely commission calculation and sophisticated rules automation is a critical part of the best MLM Software.
✓ Multi-threaded commission calculations
✓ More calculations per second
✓ Calculation accuracy checking
✓ System simulation test
We provides global technical support and virtually unlimited performance scalability.
✓ Dedicated tech team
✓ Customer service support
✓ System fine tune assistance
✓ Instant response on downtime
We know your business longed to expand and innovate continuously as it grows, and thus, a system that's scalable to cater to your business, in the long run, makes it important.
All data is under security infrastructure for ensuring physical security, data encryption, and application security.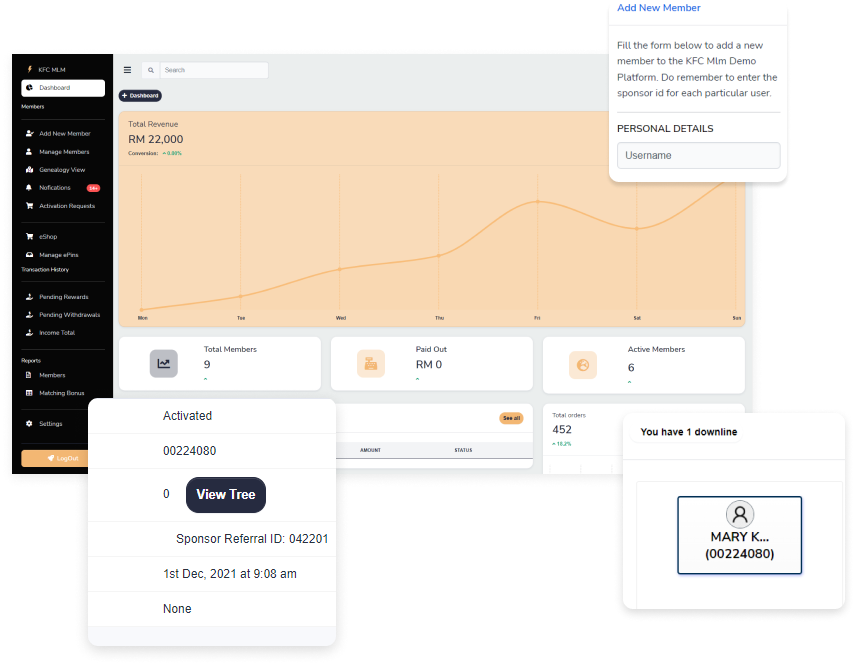 Tailored for
we have
MLM Industry
Testimonials
What client said about
Our Services?
Thank you Ant Force provide the E-commerce platform services.
Ant Force was very helpful explaining exactly what the problem was and did everything necessary to resolve the issue. They were very patient with me and provided excellent customer service!
I would like to express my satisfaction on the service regarding the development of our website. Jack and the development team did a very professional job.
Look forward to working with Ant Force again in future projects.
After evaluating a few outsourcers, I decided to work with Ant Force because of their professional approach and ability to make changes to what we wanted. They were very responsive to these changes. I appreciate their quality of work, IT expertise.
WE COULD HELP
We provides service to help your company growth